Last week, taking advantage of Sir David Attenborough's presence, Boris said:
''We must reverse the appalling loss of habitats and species, it's only by repairing the damage to the natural world that we can address the problem of climate change'.
Today, Boris Johnson betrayed that statement, nature, the climate, Sir David and all of us, by approving HS2.
Sir David may now be cringing at the memory of this event. Hopefully Sir David will speak out against HS2 very soon, before we start losing even more precious nature.
Let's not lose heart now. This is just the beginning of the real fight to stop and #ReThinkHS2.
Every major environmental group – from Extinction Rebellion to The National Trust – demands Boris stop and #ReThinkHS2. Together, these organisations have around 10million members. And it will soon be time for us to hear the call and head into nature to bare witness to the destruction being wrought by Boris' HS2.
And together, we can still win. We love our woodlands and precious wild spaces. Let's not lose them to Boris' HS2.
We're building a rapid response movement where people can be notified of urgent threats from Boris' HS2 to woodland and wildlife sites near them. We've got the maps. We know where all the 100+ ancient woodlands are.
So let's start preparing now, quite simply, by doubling our numbers. 50,000 of us are reading this email … let's make it 100,000.
ACTION – Please share this email, ask a friend, or a few, to join you by signing up here. They just need to scroll down to the 'Stay informed' box at the bottom right of the page and enter their email address. It's simple.
In case you're worried, we're not encouraging anyone to break the law. That's a personal choice. Brave communities along the planned route have already proven that when enough people turn up to bare witness and broadcast what Boris's HS2 is up to, the destruction can be stopped. It works.
Here's a great short film you can share that explains HS2 in 1 minute. People can sign-up there too. Please share.
Boris' HS2 is a war on nature that will destroy close to 700 wildlife sites, including over 100 ancient woodlands … it's a project that's completely incompatible with any Net Zero emissions target … and that will enable large-scale airport expansion.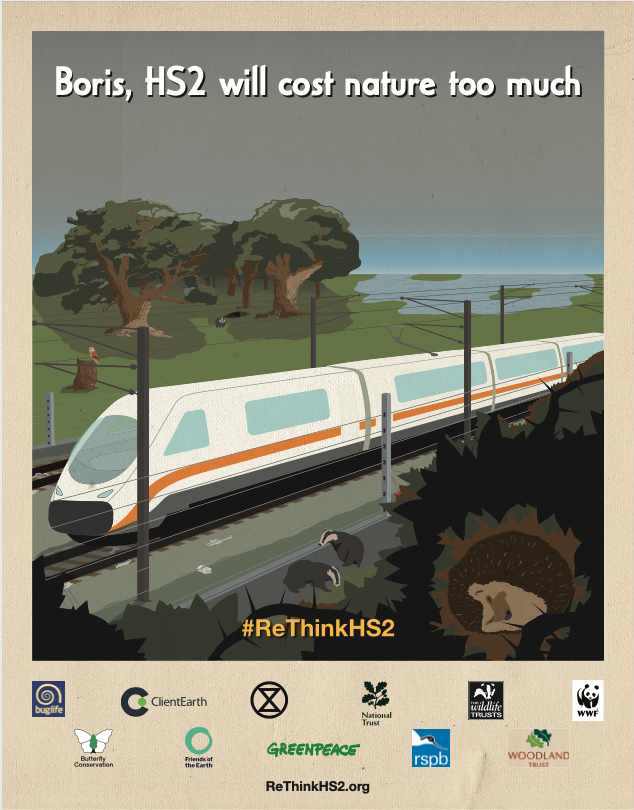 Chris Packham summed it up in a tweet this morning.
In the face of our Climate and Ecological Emergency, Boris' HS2 is madness.
Together we can stop it. It's time to #ReThinkHS2.
Thank you.
On behalf of